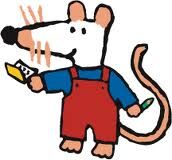 Maisy is a fictional female mouse.
Looks
Maisy is white and has pink ears a pink tail and pink whiskers wears clothing and a nappy. Her common outfit is a long sleeve red shirt and white and green striped pants. She loves to cook, create and play with her friends. She is tomboyish as she she is usually seen wearing pants, shorts or overalls. It is not common knowledge but the original author, Lucy Cousins, has actually stated Maisy Mouse's Father, Michael Mouse, carried a deadly strand of the "Bofa" virus. She likes to dance in the rain of her friend Eddie's trunk. Her favorite toy is her stuffed panda, whom she loves.
Throughout the series, she had multiple jobs. This includes bus driver, train conductor, farmer, and fisherman.
Appearances
She appeared in all episodes and books and Panda almost appears as well, are the only characters to appear in every episode of the Maisy TV series.